Peter Anthony Prince was born June 29, 1836 to an English speaking family, near Trois-Rivières Quebec. He was educated near Lindsay Ontario, and built his own hotel and lumber mill in the vicinity. He married Margaret Corrigan in 1857, and they had a son John in 1858, and daughter Rosanna in 1861. Peter Anthony Prince was a man of great energy, vision and ability, who was vital to the growth of Calgary.  He was named one of the top 40 pioneer entrepreneurs and businessmen in early Calgary.
While employed at the North West Lumber Company in Eau Claire, Wisconsin, Peter was tasked with moving to Calgary, NWT, to establish a lumber mill. He came in 1885, determined the operation needed to be set up in Calgary, and the company bought land for logging camps, lumber operations in Calgary, and timber leases.
As General Manager of Operations, Vice President and Treasurer of the Eau Claire and Bow River Lumber Company (EC&BRL) 1886 – 1917, he planned the June 7, 1886 move of 50 people from Wisconsin to Calgary, bringing a portable sawmill, logging camps and prefabricated homes, rebuilt it all here, then building the largest lumber company in western Canada. President Joseph G.Thorp in Wisconsin approved all the money and resources necessary for Prince to be successful in Calgary. Spruce, pine and fir logs were cut from 479 mi2 of timber berths along the Kananaskis, Spray and Bow Rivers west of Calgary. The lumber mill was on land south of Prince's Island (named for Peter Prince) lagoon, in the Eau Claire district. The 1886 Café was the original office of the company. The EC&BRL was one of Calgary's most prosperous companies cutting 7 million board feet of lumber annually.
The EC&BRL, both lumbering and power operations, experienced very successful growth. From 1903 to 1928, approximately $600,000.00 was paid in dividends, an average of $24,000.00 annually.
Peter Prince established the Calgary Water Power Company (CWPC) in 1889 (later Calgary Power; TransAlta) producing safe, reliable electricity for Calgarians.
The water wheel was in the power plant, and powered the saw mill in daytime, and provided for electric lights at night. The 1897 license for the power plant was only the fifth in the Dominion of Canada, and permitted a 12 foot (3.65 metres) head of water for power purposes. Calgary Power started producing power in 1905, but the CWPC continued on a smaller scale until 1928. The valuation of the CWPC in 1927 was over $401,000.00. In 1937 the City of Calgary purchased all the assets of the CWPC.
Under Prince, the EC&BRL built the first public use bridge over the Bow River (now Louise Bridge) at 10 St. NW. Pylons from the original bridge remain visible on the south bank of the Bow River, between the bridge and C-train bridge.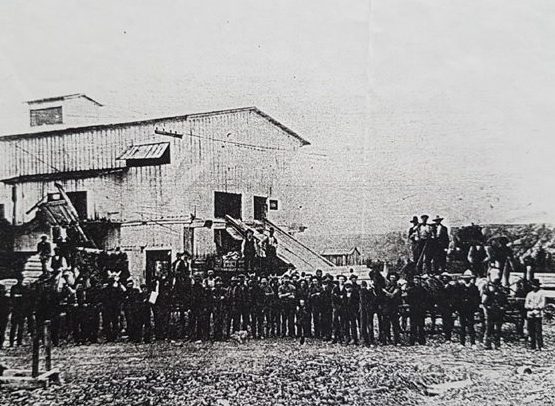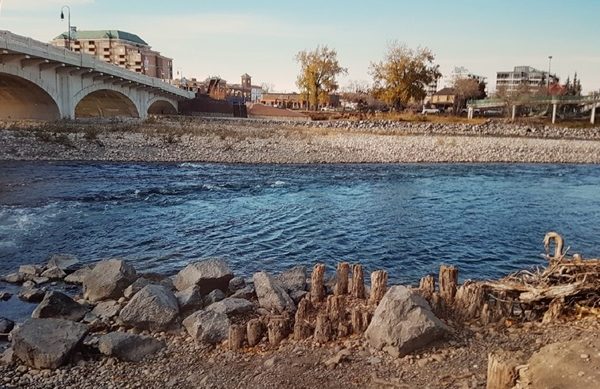 Pylons in Bow River from 1888 Bow Marsh Bridge. Photo by Marg Rabe
Over time, power plants were built on the major rivers, which were much more efficient for power production, and greatly impeded floating logs down river. Also, the public wanted to use the rivers and riverbanks for recreation. The last log drive of the EC&BRL was in 1945.
All operations of the EC&BRL and CWPC were stopped then, and assets were sold. The City of Calgary later purchased the 22.5 acres of Prince's Island at $500.00 per acre, totalling  $11,250.00, in addition to other parcels of EC&BRL  land along the riverbank.
From 1898 to 1911, Peter was also General Manager and Vice President of the Calgary Milling Company (later Robin Hood Mills) which produced 1200 barrels of flour daily. This structure was on the site of where Gulf Canada Square is today, on 9th Avenue SW. Flour was sold across Alberta and as far as Vancouver BC.
Peter Prince was also Founder and President of the Louis Petrie Wholesale Grocery firm – Canada's first cash and carry grocery store in 1918 – and with Jenkins Groceteria, the first to hire females as store clerks. Peter was also co-owner of Calgary Iron Works. Peter Prince bought the Calgary Tribune Newspaper business, and the Tribune building still stands on Stephen Avenue.
Peter donated bricks to the building of the "Lacombe Home for the Poor and Indigent"; supported the Hospital Aid Society; supplied the Holy Cross Hospital waiting room with furniture, and much more. He and wife Margaret generously gave provisions to the needy, and supported many charities. People of any religion, race or colour received from Peter Prince during very difficult times. Newspaper articles support the generosity and ongoing kindness and charity of the Prince's.
Some comments written of Peter include: Prince has shown great judgment in his business proceedings, with the result that none of his businesses has ever been encumbered, and has enhanced in value and added credit to his foresight; his inspired common sense and business acumen were recognized by all; he possessed business judgment and sagacity of the very first order; the nature and extent of his generosity to and unfailing consideration for the unfortunate will perhaps never be known; more than one of the splendid buildings in this city devoted to community service, could not have been built but for monies advanced by Mr. Prince; to those who were privileged to know him as a friend his passing will be a real and abiding sorrow; and many others.
Peter Anthony Prince died in Calgary January 12, 1925, and is interred in St. Mary's Pioneer Cemetery, in the family plot.