The 2023 Student Contest Poster is now available! Click on the Image below to view& download the printable PDF file. The contest will open on January 16th (watch here and Facebook for news!), and all entries will be due by April 4th, 2023.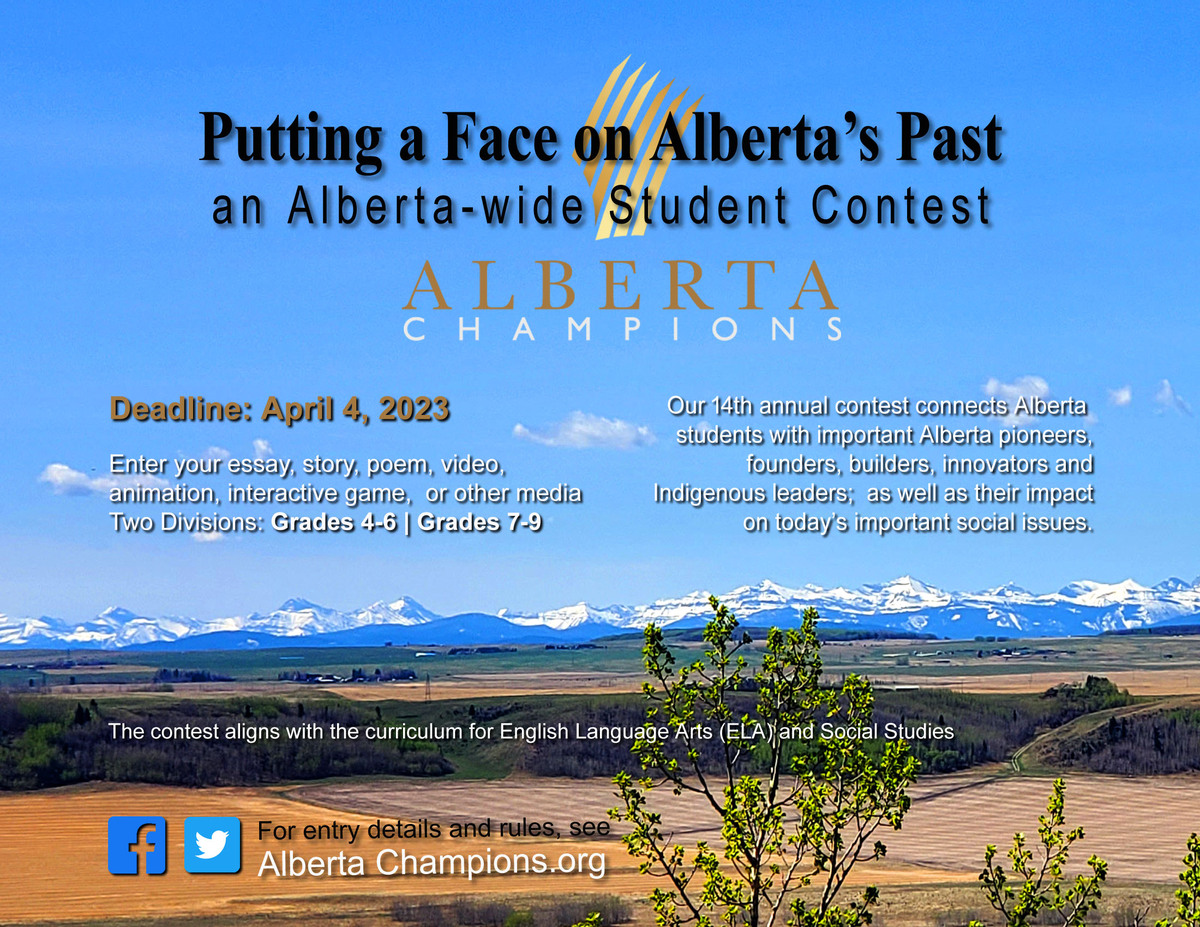 2022 Contest Winners Announced!
We are pleased to announce the judging has been completed and the winners announced. Congratulations to the winners, and to all that entered. We will be sending out the prizes to thee winning students and their teachers, as well as emailing certificates to all students who entered.
Winners' photo and their Winning Submissions
We look forward to all students and teachers participating in our 2023 Student Contest to be announced in January 2023!
This Contest is Alberta-Wide!
Our 13th annual contest connects Alberta students with important Alberta pioneers, founders, builders, innovators and Indigenous leaders; and inspires them to emulate these "champions".
For 2022, we are proud that our contest is endorsed by The Honourable Lois Mitchell, CM, AOE, LLD, former Lieutenant Governor of Alberta.
Students grades 4-9 create a multimedia entry about great Albertans, catch the inspiration, start to emulate the champions, begin their community involvement, learn good citizenship, and can WIN GREAT PRIZES!
The contest is open to students from all schools in Alberta, from Grades 4-6 and Grades 7-9 (see rules and judging rubrics, below).
This year, Grades 4 to 6 as well as Grades 7 to 9 may submit their choice of a story, essay, poetry, video, artwork, or other media which includes accompanying script.
Win Great Prizes!
Contest prizes for student winners (and their teachers will be announced on January 16th!

Getting Ready to Submit Your Entry
Check these and further details before submitting your entry on the Contest Entry button below.
FOR THE STUDENT: Check the entry for the following:
(1) the FONT is Times Roman 12 point,
(2) the file FORMAT is Google doc or Word (not PDF),
(3) the LENGTH of the text section of the entry is up to 1000 words for Grades 4-6, the LENGTH is up to 1500 words for Grades 7-9,
(4) Other media: If your entry is a piece of art, include a photo of the art plus accompanying text. For videos (no longer than 5 minutes)  provide the link to the video on the entry form.
(5) the CONTENT not only discusses the champion but also how they influenced you to "be a champion",
(6) nowhere include your name (it should only be in the entry FORM) , and
(7) finally: run a SPELL-CHECK and grammar-check on your submission.
FOR THE TEACHER: When you complete the form (next page), please
(1) PRINT the Entry Form,
(2) Have the parent SIGN the printed forms  and
(3) take a PHOTO of the signed form using your phone or a digital camera, and
(4) either (A) ATTACH the image file to the form OR(B)  REPLY to the Entry Confirmation e-mail you will (or would have) received* and ATTACH the photo image file to the email.
* The parent, teacher, student, and school would each receive an Entry Confirmation e-mail sent to each e-mail address provided!
Teachers: This is why we do it!
This is why we do it! A teacher's perspective…
Ms. Amber Araki, a teacher at Sir Wilfrid Laurier School in Calgary, Alberta has been entering students in the Alberta Champions Story/Essay Contest for five years.
This year she has TWO WINNERS in the Essay Contest!!
Write about  these Alberta Champions:
These individuals, important to Alberta history,  can be selected as subjects for the 2022 student entries for the Grades 4-6 or the Grades 7-9 contests. All are commemorated on monuments at Alberta Champions' Fields of Fame located in Calgary and area.
This list will be updated for the 2023 Student Contest by contest launch date of January 15, 2023.
OR you may write about any Albertan of your choice (posthumous).
Violet Archer
RB Bennett
David Black
Senator Patrick Burns
Wilf Carter
Dr. Karl Clark
Martha Cohen
Chief Crowchild
Chief Crowfoot
Haider Dhanani
Mary Dover
Bob Edwards
Annie Gayle
Ruth Gorman
Eric Harvie
Harry Hays
Harley Hotchkiss
William Roper Hull
Alice Jamieson
Sydney Kahanoff
Violet King
Father Albert Lacombe
Sam Livingston
Senator Sir James Lougheed
Peter Lougheed
Grant MacEwan
James Macleod
Ernest Manning
Frederick C. Mannix
Wop May
Bud McCaig
Nellie McClung
Dr. Clara Christie Might
Betty Mitchell
W.O. Mitchell
Emily Murphy
Maude Riley
Alexander Rutherford
Arthur Smith
Ron Southern
Charles (Checker)Tomkins-(Cree Code Talker)
Chief Walking Buffalo
Henry Wise Wood